Benefit Concert
Gillian Smith Feb 2 at 8:33 AM
Dear Colleagues,

Our annual Benefit Concert was filled with wonderful performances - truly beautiful, outstanding, entertaining, varied musical moments which the audience enjoyed immensely (please see Program, attached). Congratulations to our branch members who performed so beautifully - every single one of them: Kim O'Reilly, Roger Eshleman, Chris Ahn, Hillary Smith, Paul Pitman, Bang-Eunn Lee, Gideon Rubin, Araksia Nazlikian, Anahit Sevoyan, and Laura Halladay.

Paul Pitman and Dilara Khalilova were our co-chairs for this event. Dilara organized the performers and the program. Paul coordinated the venue, helped with the performers, stage managed, and performed, collaborating on piano with both cello and voice. Thank you both so much!! Thank you also to those of you who attended the concert and brought refreshments: Valeria Danielyan, Meg Falk, Thelma Mericle, and Janet Harms (please let me know if I forgot someone). Thank you all!!

Gillian
---
Sunday, January 31, 2016
4:00 p.m.
BENEFIT CONCERT
Featuring:
Artists and Friends of the
San Fernando East Valley MTAC
President, Gillian Smith.
A unique opportunity to hear professional
musicians in a beautiful central location of the
San Fernando Valley
First Presbyterian Church of Encino
4963 Balboa Boulevard
Encino, CA 91316
Program
I
Klavierstück in A Major by C.P.E.Bach
Kim O'Reilly, piano
II
Trio Sonata for organ in E Flat Major by J.S.Bach, Allegro.
Roger Eshleman
III
Chaconne for two cellos in D minor by J.S.Bach
Chris Ahn
Hillary Smith
IV
"Vissi, d'arte" from Tosca by G.Puccini
Tracy Saliefendic, soprano
Paul Pitman, piano
V
12 Variations on "Ah, vous dirai-je maman" by W.A.Mozart
Gideon Rubin, piano
VI
"Volare" music by D.Modugno, lyrics by D.Modugno,
F.Migliacci
"That's Amore" music by H.Warren, lyrics by J.Brooks
Christopher Showerman, baritone
Paul Pitman, piano
VII
12 Variations on "See, the Conqu'ring Hero Returns" from Handel's Oratorio Judas Maccabaeus by L.van Beethoven
Bang-Eunn Lee, Cello
Paul Pitman, piano
VIII
"Finale" from Firebird Suite by I.Stravinsky,
transcription by Guido Agosti
Stela Roznovan, piano
Intermission
IX
Piano Quartet in C minor Op. 13 by R. Strauss, Allegro
Araksia Nazlikian, violin
Diana Ray –Goodman, viola
Jan Kelley, cello
Ornela Ervin, piano
X
"A Trip to the Library" from She Loves Me
music by J.Bock, lyrics by Sh.Harnick.
Penny Di Marco, acting
Paul Pitman, piano
XI
Claude Debussy - Estampes: Jardins sous la
Pluie (Gardens in the Rain) by C. Debussy
Anahit Sevoyan, piano
XII
"Doch weichet ihr tollen vergeblichen Sorgen"
for Flute, Voice and Basso Continuo by J.S.Bach
Laura Halladay, flute
Dr. Patricia Hannifan, organ
Dr. Christian Nova, baritone
XIII
"Ohio" from Wonderful Town
music by L. Bernstein, lyrics by Betty Camden
and Adolph Green
Penny Di Marco and Tracy Saliefendic,
Paul Pitman, piano
You are cordially invited for refreshments and a chance to greet the performers in the Social Hall after the concert.
Please make your generous donations for the MTAC Scholarship Fund to the MTAC Foundation
The East San Fernando Valley Branch of te MTAC wants to express their deep appreciation to the First Presbyterian Church of Encino for the generous use of their beautiful facility.
---
<![if !vml]>

<![endif]>

February and March

Gillian Smith Feb 9 at 1:58 PM

Dear MTAC SFEV Colleagues!!

Our colleague, Mark Richman, will be leading the Sara Compinsky Master Class tomorrow morning - 10AM at Keyboard Concepts in Van Nuys!

February 22nd, Monday 10AM at Keyboard Concepts in Van Nuys, Dr. Jeanine Jacobson will be offering a lecture on piano pedagogy. Anyone and everyone is invited. $10 suggested donation. RSVP to Meg Falk mmen1964@sbcglobal.net

In addition, we have lots of Branch events coming up in the next two months. See portion of our Calendar, below. Thank you to all our chairpeople and their assistants who work so hard coordinating these events!

CM deadline for entering student evaluation information online is February 14th at midnight. Please check and double check everything. There are more than 500 students involved, so chairpeople simply will not have the time to fix any mistakes we might make while entering all this information. REMINDER: Branch Honors criteria = Level IV and above; Good or better rating for Technique; Average or better rating for Sight-Reading; pass theory test; memorize only the piece chosen and the correct number to pass CM requirements; 5- or better rating on the piece chosen.

Our Benefit Concert was successful in the quality of the performances but we did not fair well financially. We had to pay more for the venue, this year, and the heavy rain that day kept many of our regular patrons away. Too bad about this. We will have much to reconsider for next year. Thanks again to our many wonderful performers: Kim O'Reilly, Roger Eshleman, Chris Ahn, Hillary Smith, Paul Pitman, Bang-Eunn Lee, Gideon Rubin, Araksia Nazlikian, Anahit Sevoyan, and Laura Halladay. And much appreciation extended to all of you who attended/and or brought refreshments: Janet Kaplan, Paul Pitman, Thelma Mericle, Hillary Smith, Dilara Khalilova, Valeria Danielyan, and Meg Falk.

Start thinking about the Bach Festival!! Post-mark deadline is March 21st.

Happy Valentine's Day!

Gillian

February 21 Classical / Romantic Festival Los Angeles Valley College
Registration Deadline February 1 (postmark)
Chairperson: Kim O'Reilly
Assistant: Meg Falk

February 28 Certificate of Merit – String Instruments Piano Play
Chairperson: Hillary Smith
Assistant: Christopher Ahn

March 6 Certificate of Merit – Winds Instruments Glendale Adventist Academy, 700 Kimlin Drive,
Registration Deadline October 31
Chairperson: Denia Bradshaw
Assistant: Francine Ross-Pancost

March 12/13 Certificate of Merit - Piano Los Angeles Valley College
Registration Deadline October 31
Chairperson: Sharon Shaheed
Assistant: Pamela Prasarttongosoth

April 3 Honors Festival Los Angeles Valley College
Registration Deadline March 25 (Friday)
Co-Chairs: Roger Eshleman, Laura Halladay, and Constance Kuhne

April 10 Bach Festival 12 - 3PM Steinway Beverly Hills
Registration Deadline March 21 (postmark)
Chairperson: Kathleen Rabun
Assistant: Aziza Syed

<![if !vml]>

<![endif]>

Fwd: The Sixth Annual Kathryn Gawartin Chopin Competition online application

Gillian Smith Feb 24 at 10:13 AM

Dear Branch Presidents:

The Sixth Annual Kathryn Gawartin Chopin Competition organized by the West Los Angeles Branch will be held on Sunday, April 10, 2016 at Steinway Piano Gallery located at 8801 Wilshire Blvd., Beverly Hills, CA 90211. This is a cash award competition and is open to all branches of MTAC. Online application is available. Please visit www.mtacwla.org and click on Gawartin Chopin Competition for guidelines and application. Deadline to complete online registration is March 28, 2016.

Please pass along this announcement to your branch members. If by any chance, you are no longer the branch president, please pass along this e mail to your current president.

Should you have any questions, please feel free to contact myself, Louisa Wong at louikitw@yahoo.com or my co-chair Dr. Wojciech Kocyan at drkocyan@hotmail.com.

Thank you for you attention.

Yours truly,

Louisa Wong, Wojciech Kocyan

Chopin Competition co chairs

MTAC-WLA

<![if !vml]>

<![endif]>

Classical/Romantic Festival - CM Strings, Winds and Piano - lecture at Keyboard Concepts - concert announcement - Bach Festival

Gillian Smith Feb 24 at 11:10 PM

Dear MTAC SFEV Branch Members,

We are in the busiest time of our year. I hope all of you entering students in one or more of the January/February/March/April events can take a deep breath, realize that you have given your best, and that the journey is the most important part of the process. In this regard, I recommend Michael Moore's documentary, Where to Invade Next, last week. It is filled with many brilliant ideas, but one of the most riveting for me as a teacher was that in Finland, where students scored highest on the international spectrum of academic tests, and where music education is probably the best in the world, levels of student "HAPPINESS" is a very important matter to teachers in Finland. I really recommend this movie to teachers of all subjects!

Classical/Romantic Festival

Thank you to our chairperson for the Classical /Romantic Festival, Kim O'Reilly, and to her assistant, Meg Falk, for coordinating the Classical /Romantic Festival, dedicated to the memory of Ed Grossman. This event is non-competitive, yet adjudicators are hired to write comments abut students' performances. This year, there were 24 performers in two recitals, and Gayle Kowalchyk and Ferhiz Brewer were the evaluators. Apparently, one of this year's judges commented that she really enjoyed hearing students of average ability performing in public. So often, for a variety of reasons, it is only our students who are really excelling who participate in the competitive festivals. Our branch recognizes this deficit by organizing this festival each year in which students of moderate achievement feel more comfortable participating. Of course, some outstanding performers participate as well, but they don't necessarily dominate.

Apologies to some performers and teachers who found incorrect information on the website about the event location. All performers eventually found their way to Valley College, and I hope no one was terribly inconvenienced.

Lecture

Dr. Jeanine Jacobson gave a two-hour, two-topic lecture on Piano Technique and Practicing Strategies at Keyboard Concepts, Monday, February 22nd, 10AM to 12PM. It was a very successful event: 26 teachers attended, including a dozen or more from our branch as well as others from the Conejo, West Valley and North Valley.

CM for Sting Instruments

CM for Strings takes place this weekend, Sunday, February 28, at Piano Play. Thank you to chairperson, Hillary Smith, and her assistant, Chris Ahn. We used to join with CM strings West Valley, but we now have enough string teachers and students to run our own CM String evaluation.

CM for Wind Instruments

CM for wind instruments takes place, March 6th, at Glendale Adventist Academy. Our thanks to chairperson, Denia Bradshaw, and her assistant, Francine Ross-Pancost, for running this event.<![if !supportLineBreakNewLine]>
<![endif]>

CM for Piano

March 12/13, Los Angeles Valley College, Chairperson: Sharon Shaheed and Assistant: Pamela Prasarttongosoth

Concert Announcement

Our esteemed branch member, Dr. Yue-Fun Chuang, will be performing in the UCLA Composer's Concert, upcoming, Sunday. February 28th, Ostin Hall at UCLA, at 12 noon. Please see flyer, attached.

Southern California Junior Bach Festival Registration for Teachers

Registration for the 2016 Southern California Junior Bach Festival (SCJBF) closes Monday - March 21, 2016. Teachers can go to www.scjbf.org to register.

The Festival will take place Sunday, April 10th from 12 - 3pm at the Steinway Beverly Hills store. The $25 participation fee will need to be sent to Kathleen Rabun (event chair) by the deadline.

MTAC members are encouraged to register students even if they are beginning to intermediate level. Students can perform works from the "Notebook for Anna Magdalena" at the branch level only.

If you are a returning teacher or new teacher, you can login and/or sign-up on the tab REGISTRATION & ANNOUNCEMENTS on the HOME page.

Go to the the tab RULES & GUIDELINES for a list of the current rules and guidelines. It is the teacher's responsibility to make sure they follow all the requirements for participation. No exceptions will be allowed.

If you have any questions, feel free to contact the SCJBF-SFEV Branch Chair; Kathleen Rabun via email at kathleen@rabunpianostudio.com

February 28 Certificate of Merit – String Instruments Piano Play
Chairperson: Hillary Smith
Assistant: Christopher Ahn

March 6 Certificate of Merit – Winds Instruments Glendale Adventist Academy, 700 Kimlin Drive,
Registration Deadline October 31
Chairperson: Denia Bradshaw

March 12/13 Certificate of Merit - Piano Los Angeles Valley College
Registration Deadline October 31
Chairperson: Sharon Shaheed
Assistant: Pamela Prasarttongosoth

April 3 Honors Festival Los Angeles Valley College
Registration Deadline March 25 (Friday)
Co-Chairs: Roger Eshleman, Laura Halladay, and Constance Kuhne

April 10 Bach Festival 12 - 3PM Steinway Beverly Hills
Registration Deadline March 21 (postmark)
Chairperson: Kathleen Rabun
Assistant: Aziza Syed

<![if !vml]>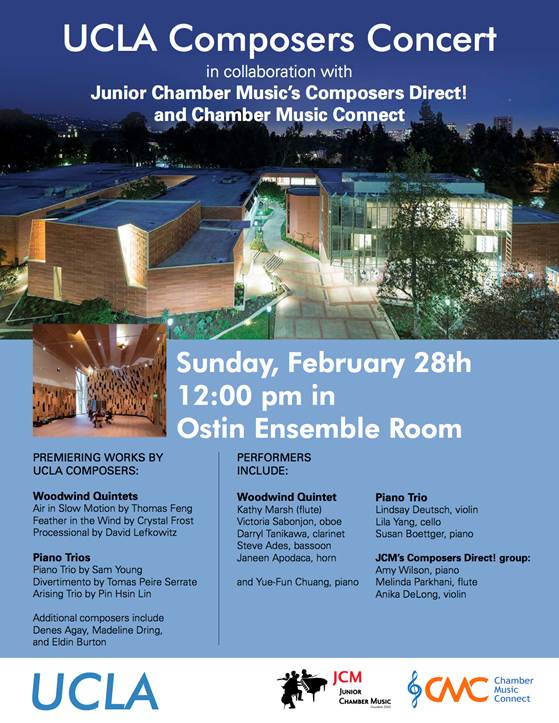 <![endif]>