Certificate of Merit
To Parents and Students,
The Music Teachers' Association of California (MTAC) sponsors a music study program entitled Certificate of Merit (CM). Initiated in 1933, the CM Program now involves approximately 30,000 students annually statewide. There are evaluation opportunities for students of Piano, Violin, Cello, Viola, Flute, Oboe, Clarinet, Saxophone, Bassoon, Horn, Voice and Harp.

Goals of Certificate of Merit:

To provide a systematic and comprehensive plan to develop performance skill, technique, ear training, sight reading/singing and understanding of music theory.

To develop practical goals to help students maintain a steady and focused approach to their musical studies.

To encourage students to strive for musical excellence.

To create opportunities in which students may share their music with others.

How the CM Program Works:
A detailed CM Syllabus has been created and designed for each of the above-mentioned instruments. There are specific set requirements for each of the eleven CM levels. Your child's teacher will decide on the level that is appropriate.

Student Registration takes place from October 1 - 31. Your child's teacher will register your child through a secure online database. Students must be age 5 or older as of October 31 (the CM Registration Deadline) to participate in the CM Program.

Students work with their teachers on selected literature, technique elements, sight reading, theory and ear training for their enrolled level.

Registered students participate in an annual evaluation held from mid-February through April.

From the evaluation, students receive a written assessment.

Students will also complete a written theory exam, which includes an ear training component.

Upon successful completion of all segments of the evaluation, students receive an official MTAC CM Certificate.

Senior medallions will be awarded to eligible high school seniors.

Students who demonstrate exceptional skill at his/her evaluation may be selected to perform at annual MTAC State Convention Recitals.

Your child(ren) will benefit tremendously from this wonderful educational opportunity and experience. Please consult with your child's teacher for more information regarding registration and preparation.


General Information:
Any teacher who is an active, provisional, Cal Plan or student member of MTAC may enroll students in the Certificate of Merit program. Enrollment is limited to teachers in good standing who are California residents and who are affiliated with a local branch of MTAC. Students are evaluated on an assigned date at a site determined by the local branch of MTAC. These evaluations are administered by state-appointed evaluators. Evaluations include all elements of the CM program: performance, technique, ear training, sight reading and written theory tests. The branch fee for participation is $12.


Syllabus:
The Certificate of Merit Syllabi are published by The Music Teachers' Association of California and is available for purchase exclusively through the MTAC State Office. To place an order for a Syllabus, go to MTAC's Online Store. You can also order with a credit card by calling 1-800-834-3340 extension 1 (24 hour automated service) or send check payment to: MTAC, 833 Market Street, Suite 900, San Francisco, CA 94103. Member and non-member prices are listed for each Instrument Syllabus.

Syllabi for other instruments and additional Certificate of Merit publications are also available through the MTAC State Office.
There will be two CM meeting dates: All meetings will be held at Piano Play Music Systems: 14724 Ventura Blvd., Floor MZ in Sherman Oaks, CA 91403.

Our CM registration process begins on line Monday, October 1st to Wednesday, October 31st.
State rule: Teachers wanting to participate in CM are required to attend one mandatory CM meeting.

You are only required to attend one of these meeting. Meetings will start promptly!

1. Sunday, September 16th 3:30-4:30 pm

2. Sunday, September 23rd 3:30-4:30 pm

Park in the building structure anywhere on the second level. Please do not park in the reserve spot. Parking is free. Keep your parking ticket to exist out.

Cross streets are Kester Avenue and Cedros Avenue on the south side of street next to Panera Bread and Chipotle) Parking is free.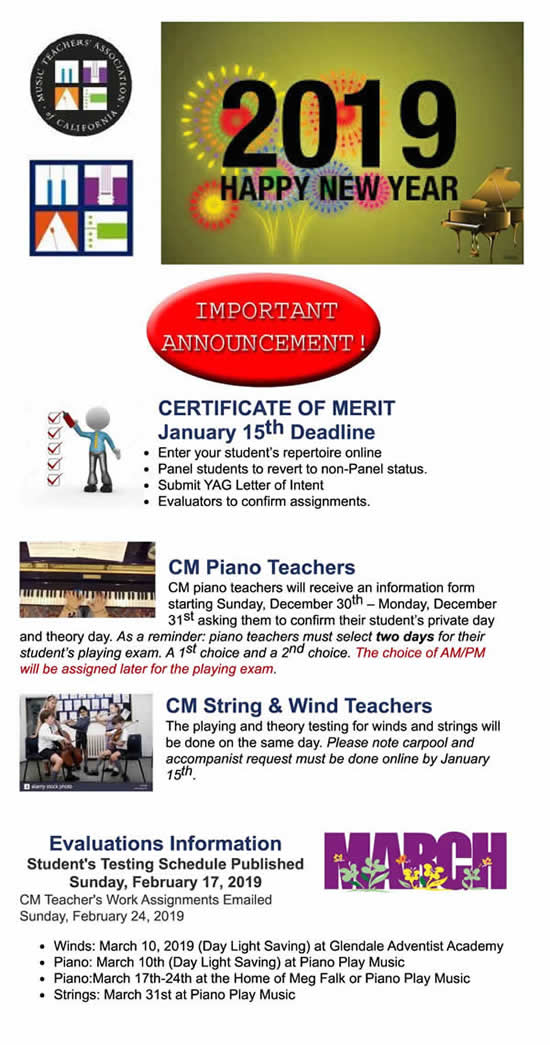 March 10, 2019 - Winds Evaluation Date
Glendale Adventist Academy (700 Kimlin Drive)
Chairperson: Denia Bradshaw
Assistant:
Registration Oct.1-31
Fees paid on Nov.1-10
March 10, 17 and 24, 2019 - Piano Evaluation Dates
Sunday, March 10th at Piano Play
Sunday, March 17th at Piano Play and the home of Meg Falk
Sunday, March 24th Piano Play and the home of Meg Falk
Chair: Sharon Shaheed
Assistant: Pamela Prasarttongosoth
Registration Oct.1-31
Fees paid on Nov.1-10
March 31, 2019 - Strings Evaluation Date
Piano Play Music Systems
Chair: Hillary Smith
Assistant: Christopher Ahn
Registration Oct.1-31
Fees paid on Nov.1-10
Certificate of Merit Honors Festival
The 2019 CM Honors Festival will take place on April 14 11am - 8pm
Los Angeles Valley College
Chairperson - Roger Eshleman
Assistants:
1st Registration Deadline: *
2nd Registration Deadline: *

The Festival is for students who were awarded honors in the Certificate of Merit program. There is no enrollment fee for participation in this festival.

To be eligible, students must be Level IV or higher, pass the theory exam (70% or better), receive average, good or excellent in sight reading, receive good or excellent in technique, and receive a 5+, 5 or 5- for the chosen piece that must be memorized. (Keyboard only).
Student registration for state programs must be completed on the state website. To register, please go to new.mtac.org and log in using your teacher ID and password.

Certifcate of Merit Newsletters:
CM Newsletter December 2018 - CM Events 2019
CM Newsletter August 2018 - Welcome to Certificate of Merit 2018-2019