MTAC SFEV BRANCH NEWSLETTERS
April 2016

Fwd: Teacher Training - New Online System.
Gillian Smith Apr 2 at 6:18 PM
Dear Teachers,

Please see the information below about online training sessions for CM, next year!

BRANCH HONORS

Our Branch Honors Festival takes place this weekend at Valley College. There will be 5 recitals Sunday afternoon. The programs are attached so that all teachers in the Branch can see the times, locations, repertoire being performed, etc. Congratulations to the performers, their families and their teachers for their achievement!! The Branch thanks, Roger Eshleman and Laura Halladay for the huge amount of work they put into chairing this festival!! Several other teachers are helping out as well, but for fear of leaving someone out, I won't mention other names at this point. Thank you to all of you who are helping!!

BACH FESTIVAL

The Bach Festival takes place Sunday, April 10, at Steinway Beverly Hills, between 1:30 and 4PM. Our thanks to Chairperson, Kathleen Rabun, for all of her work organizing that festival.

Again, please read the information below, if you plan to enroll students in Certificate of Merit, next year.

Gillian
Branch Presidents

MTAC's new online system is coming to CM this fall. In preparation for this all new online system, MTAC is scheduling a series of information sessions that give teachers a first hand look at the new system. These sessions will walk the teachers through the basics of the new system including:


· How to build your student roster
· The teacher portal
· Registering students for CM
· The parent portal
· How to find help


Since this system will be used to register students for CM in 2017, it is extremely important that teachers get a head start on how to use the system. Please encourage the teachers in your Branch to sign up for these sessions. We will be holding additional training sessions for Branch CM chairs, however, the more exposure the chairs have to this system the easier it will be for them to help the teachers when the system opens up this fall.


MTAC has scheduled the following sessions. Watch for the email from the state office that has a link to RSVP for these:

Northern California Dates

Saturday April 16 State Office, San Francisco at 11:30 am

Saturday April 16 State Office, San Francisco at 1:00 pm

Saturday April 16 State Office, San Francisco at 3:00 pm

Sunday April 24 Cosumnes River College, Sacramento at 2:00 pm

Sunday April 24 Cosumnes River College, Sacramento at 3:30 pm

Southern California Dates

Saturday April 23 Keyboard Concepts, Santa Monica at 1:00 pm

Saturday April 23 Keyboard Concepts, Santa Monica at 2:30 pm

Wednesday April 27 Fields Piano, Santa Ana at 10:30 am

Saturday April 30 Fields Piano, Santa Ana at 3:30 pm

Saturday May 7 SoCal Pianos, San Marcos at 2:00 pm

Saturday May 7 SoCal Pianos, San Marcos at 3:30 pm

833 Market Street, Suite 900
San Francisco, CA 94103
T: (800) 834 3340
To unsubscribe from this email listing, please click here.

Fwd: Pages much needed at the 2016 MTAC State Convention

Bach Festival/ Meeting - Monday, May 9th
Gillian Smith Apr 11 at 10:00 PM

Dear MTAC SFEV Colleagues,

Branch Honors Festival

Although I was not able to attend the Branch Honors Festival, I heard form others that it went very well, that many fine performances were presented during the course of five recitals, and that our Branch should be proud of teacher/ student effort and product. Enormous thanks to Roger Eshleman and Laura Halladay for putting it all together and to the other teachers who helped out with this large event. Congratulations to all you teachers and your students whose hard work was presented at this festival!!

Bach Festival

Congratulations to the students and their teachers who participated in the Bach Festival which took place at Beverly Hills Steinway last weekend, April 10th. Kathleen Rabun chaired this event. Thank you, Kathleen, for all your hard work and for doing a wonderful job!! The Regional Bach Competition will take place May 15th, at Pasadena Steinway.

Teachers' Performance Meeting

On Monday, May 9th, we will hold our Teachers' Performance Meeting. The date has been changed due to consensus of our Board members. Please take note that the next meeting will now be Monday, May 9th NOT Tuesday, May 10th. We will meet at the home of Dilara Khalilova (6540 Hayvenhurst Ave Ste #34, Lake Balboa, CA 91406 818-994-2093). If you would like to perform, please let Dilara know what you would like to play and the timing of your selection. Performers will be scheduled on a first-come-first-served basis.

Also, whether you are performing or not, please let Dilara know what you would like to bring for lunch. We will coordinate the food accordingly.

We look forward to having many of you there. After the performances, we will be discussing new officers, new venues, and many other aspects of our yearly events and policies to be put into place for the 2016/17 season ahead. Please make every effort to attend this important meeting.

Performances: 10:00 to 10:45

Coffee and Refreshments 10:45 to 11:00

Meeting and Lunch 11:00 to 12:30

Adjournment 12:30

As always, wishing you all the best,

Gillian

Some words of appreciation

Gillian Smith Apr 14 at 10:30 AM

Dear MTAC SFEV Colleagues,

Thank you to so many of you who contribute many, many hours of your time and attention to our events of the season: General Recital (Michael Paul); Piano Masterclass - Mark Richman; Contemporary Festival (Nobuyo Nishizaka and Mariko Urushidani); General Recital (Anahit Sevoyan); Benefit Concert (Paul Pitman and Dilara Khalilova); Classical/Romantic Festival (Kim O'Reilly and Meg Falk); Dr. Jacobson Lecture (Meg Falk); CM Strings (Hillary Smith and Chris Ahn); CM Winds (Denia Bradshaw and Francine Ross-Pancost); CM Piano (Sharon Shaheed and Pamela Prasarttongosoth); CM Honors Festival (Roger Eshleman and Laura Halladay); Bach Festival (Kathleen Rabun and Aziza Syed); ongoing year-round jobs (Aziza Syed as Treasurer, Thelma Mericle as Correspondence and Recording Secretary, Mark Richman as Vice President, Laura Halladay as Liaison with Valley College, Francine Ross-Pancost as Membership Secretary, Directors, Kathleen Rabun, Rita Hovanesian, Arjang Rad Hedayati, and Anahit Sevoyan; and Dilara Khalilova as website coordinator with our professional website manager, Ronda Flanzbaum. Looking ahead, thanks in advance to Mark Richman and Tamara Gyulnazarova for work on the Scholarship Competition; to Kathleen Rabun for work on the Bach Regional Festival; to Regina Verteym and Nicole Nale for running the Spring Festival. There are many others of you who have helped out at the individual recitals or brought refreshments, ribbons, programs, etc. Thank you ALL for the collective effort and good spirit which makes our branch work well and happily in the process.

With every event and every job in the Branch, there are always a few problems, glitches, etc., unfortunate circumstances for individual students and teachers which occur. Volunteers try their best to avoid problems for anyone, but life being what it is, perfection is unattainable. It has been reported this year that, generally, teachers demonstrated extra patience and understanding with those in charge of particular functions. On behalf of everyone overseeing any of these processes, thank you for the generosity of your understanding and patience. It made for a happier year for our chair people.

We are fortunate to belong to a community of kind, talented, fun, dedicated music teachers which is MTAC's San Fernando East Valley Branch!

Gillian





Fw: Recital at Keyboard Concepts this Friday at 11 am
Gillian Smith Apr 20 at 10:45 PM
-----Original Message-----
From: Thelma Mericle

The duo Paratore Brothers will also be performing at:

KEYBOARD CONCEPTS SHERMAN OAKS THIS FRIDAY APRIL 22, 2016 AT 11AM.

Thelma Mericle
Performing Arts Conservatory
The Buckley School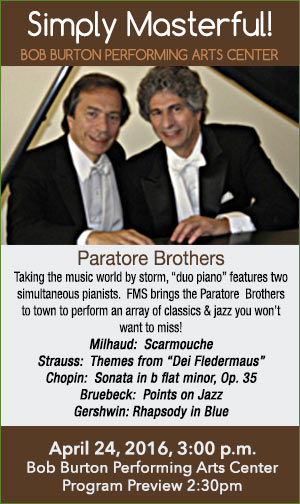 "19 things that great music teachers do"
Gillian Smith Apr 22 at 9:44 AM
Dear Colleagues,

Perhaps some of you have seen this article (link below) before, but if not, I thought I'd pass it along in case there might be something interesting to you, at the least, or perhaps even inspirational.

Gillian
http://www.creativitypost.com/arts/19_things_that_great_music_teachers_do

Scholarship Competition
Gilllian Smith Apr 24 at 11:25 PM
Dear Colleagues,

This is just a reminder that the deadline to register students for our branch Scholarship Competition is tomorrow, Monday, April 25th. Please read pertinent Rules an Guidelines and send one check totaling $20 per student plus application forms to Mark Richman, 5050 Coldwater Canyon Avenue, Sherman Oaks, CA 91423.

Please also send the names of students and the repertoire they are playing via email to Mark. It is easier to copy and paste names than to re-type them. It is also more accurate with less chance of misreading handwriting.

Thank you.

Gillian