MTACSFEV Branch Newsletters
March 2015
~~~~~~~~~~~~~~~~~~~~~~~~~~~~~~~~~~~~~~~~~~~~~~~~~
March 18, 2015
Subject: CM - Honors Festival - Bach Festival - Young Artists Audition
Dear MTAC SFEV Colleagues,

I hope everyone is enjoying post-CM time as much as I am!!! Just a cute story: I was monitoring a room on Sunday in front of which sat two young men, both very dressed up and awaiting their evaluation. The older of the two, an 11th-grade student, was very friendly and asked the other preparatory-level student if he was excited to be doing CM. The little boy said that he was. They discussed the repertoire of the Prep-level kid. The older one said "I hear those are good pieces." The younger one said, "I wanted to play 'Little Ponies.'" The older one said, "well maybe next year." It was quite a charming little exchange!

Gillian

CERTIFICATE OF MERIT for Piano

Certificate of Merit weekend for pianists went very smoothly thanks to Sharon Shaheed and her crew including her sister! Their level of organization is high and the amount of good spirit Sharon puts out in the process is remarkable!! Thank you so much, Sharon, and much thanks as well to Pam Prasarttongosoth for all the scheduling and tabulating that you do incredibly well! You are quite a team, and we appreciate you all IMMENSELY!!!

Sometimes issues arise which are disappointing for us as individual teachers during the course of these big events. It is important for us all to remember that the people running the big events volunteer huge amounts of their personal time and attention, and that our maintaining a respectful attitude showing understanding of the numbers of tiny details they keep track of will help them continue to feel good about their volunteer effort. If we overwhelm them in the minute of our disappointment regarding our individual situations with anger or other high-running emotions, it can be extremely vexing and can cause those who normally love volunteering their time to feel demoralized and questioning if their effort is worth it. It is more understanding of the overall picture and respectful of those who are giving so much if we raise concerns at an appropriate time within an atmosphere of calm discourse so that changes can be made if needed. I encourage all of us to trust in and enjoy a process of reasonable discussion, a particular attribute of our particular branch which so many of us find exceptional, actively appreciate, and want to maintain.

All of our evaluating processes went well: wind evaluation in Glendale and our first-ever string evaluation at Piano Play and the piano evaluations last weekend at Valley College. We have over 100 students selected for Branch Honors, and, once again, evaluators were enthusiastic about the overall level of preparation and variety of repertoire. IMPORTANT: The Branch will hire an accompanist for wind and string students who wish to perform at the Branch Honors Festival. Please contact Laura Halladay and/or Francine Ross-Pancost if you want your student to perform with specially-hired accompanist, Paul Switzler, who is fantastic!

Congratulations to all of you teachers for doing a wonderful job with your students!!

A hint for next year: piano teachers, encourage your students to sign up for Saturday, if possible. Sunday is much more crowded, hectic, and requires the branch to have to use a piano in a practice room which is very common for most branches but something we could avoid if more people signed up for Saturday.

Deadlines for the HONORS FESTIVAL and for the SOUTHERN CALIFORNIA JUNIOR BACH FESTIVAL

This coming Monday is the deadline for entering students in both the Honors Festival and the Bach Festival!! Please follow directions for both:

Bach Festival
Please send your students for Bach Festival. Register at scjbf.org $25 per student. Please send the teacher's check only to my address:
Nobuyo Nishizaka
655 Hamilton Ave.
Pasadena, CA 91106
4/12 (Sun) PM at Pasadena Steinway
Honors Festival - Sunday, March 29th at Los Angeles Valley College.
Chairperson: Roger Eshleman, Assistants: Laura Halladay & Meg Falk
Please use this format when sending information to Roger:
1) Students first and last names correctly spelled.
2) Student's playing level and school grade
3) Instrument & accompanist's name
4) Song Title chosen by evaluator to be played. (If it is the teacher's choice than you can make the decision).
5) Movement, Opus no.
6) Tempo
7) Minutes of performance
8) Accompanist name (if necessary)
Young Artists Audition Application and Rules
View the rules on-line - http://www.classicsaliveartists.org/AuditionApp.html
Winners of the Classics Alive Young Artists Auditions are selected based on exceptional musicianship, technique, ability to communicate as a performer, and future potential. The jury is given the flexibility to select multiple winners. Total Prizes of up to $2500 will be awarded. Artist management will be awarded to the Grand Prize winner of Division A.
Classics Alive Young Artists Auditions are open for the following instruments:
PIANO, VIOLIN, VIOLA, CELLO, STRING QUARTET, STRING TRIO, PIANO TRIO, FLUTE, CLARINET, OBOE, TRUMPET, GUITAR, SAXOPHONE, HARP, AND VOICE
IMPORTANT DATES
PRELIMINARY AUDITIONS - Applications and video links deadline – June 30, 2015
FINAL ROUND AUDITIONS – September 5, 2015 (Los Angeles venue TBA)
WINNERS CONCERT – September 6, 2015 (Los Angeles venue TBA)
Age Categories
Young Artists Division A – College to age 30
Young Artists Division B – Grades 9-12
Junior Artists – Grades 8 and under
Video Preliminaries
Preliminary Auditions will be judged via uploaded performances to YouTube. Be sure to record and upload your audition performances (one performance per link) before filling out your application.
~~~~~~~~~~~~~~~~~~~~~~~~~~~~~~~~~~~~~~~~~~~~~~~~~
March 11, 2015
Dear Members of MTAC SFEV Branch!

Reminder: Bach Festival registration deadline is March 23. Register at scjbf.org Send one check from each studio for $25.00 per entrant directly to chairperson, Nobuyo Nishizaka. Please also send a copy of student entries including student name, age, level, and repertoire so that Nobuyo can cut and paste the information onto the program.

Concert Announcement

The "Jewel City Flute Choir, " under the direction of our member, Francine Pancost, will be performing this coming Saturday, March 14, at 6PM at the First Congregational Church of Glendale. The flyer for this "pi day 3.14" concert is attached!

Classics Alive Foundation

Announcement from branch member, Jean Deutsch:

Dear Teachers,

The Classics Alive Foundation is sponsoring Young Artist's Auditions to take place this summer. Please see the rules and guidelines below for Grades 9 - 12. There will also be auditions for Grades 8 and under which will be posted on-line at www.classicsaliveartists.org within the next week or so. Since the preliminary round of the auditions is video only, I'm sending you these rules now, in case your students want to make a video of their CM pieces before they forget them.

There will also be a college - age 30 category with the winner receiving a cash prize and management. Again, these rules will be posted on-line very soon. If you have any questions regarding the auditions, please let me know.

Please forward this email to the members of your MTAC Branches and any colleagues who may be interested in participating.

Thank you,
Jean Deutsch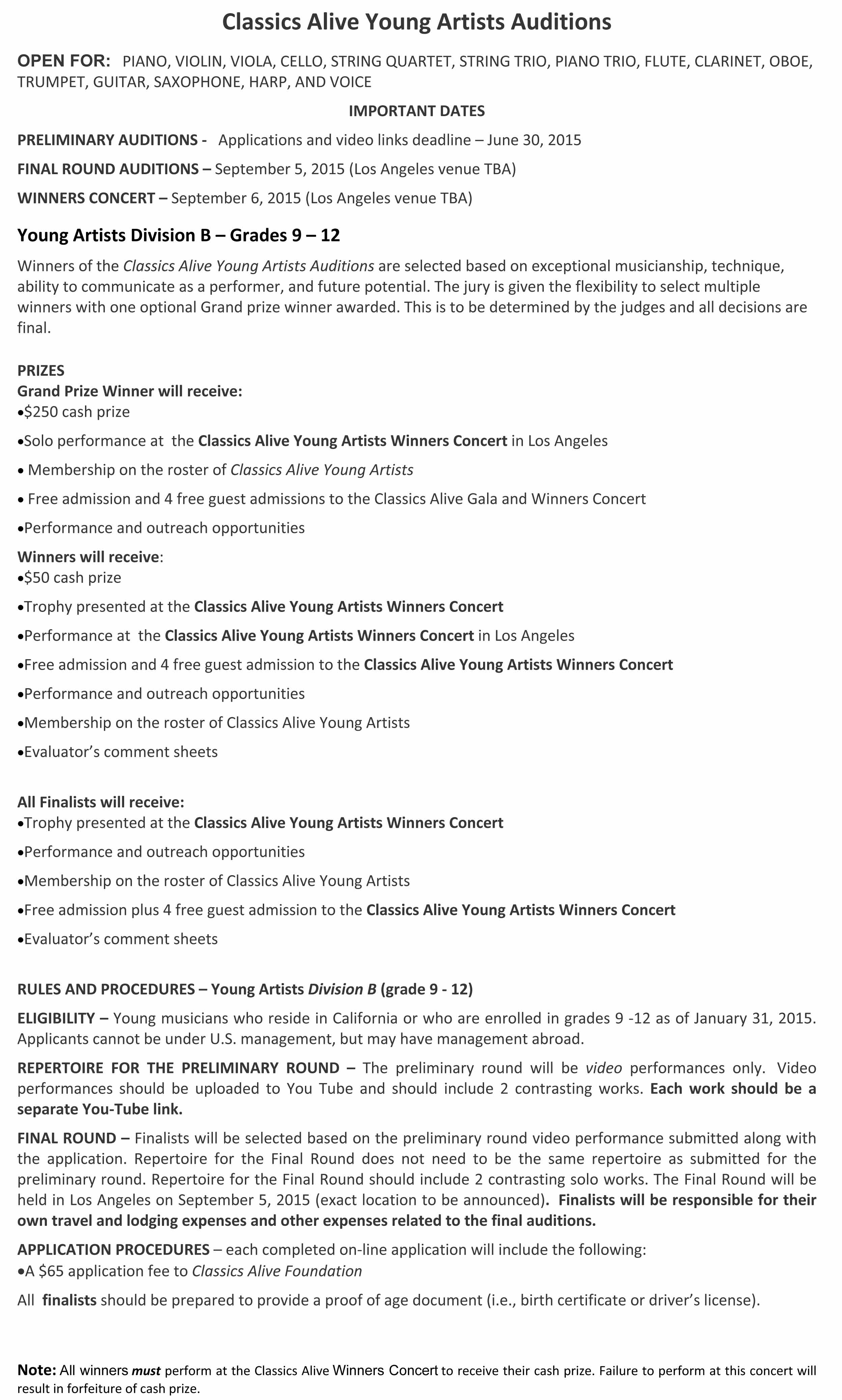 ~~~~~~~~~~~~~~~~~~~~~~~~~~~~~~~~~~~~~~~~~~~~~~~~~
March 9, 2015

Dear MTAC SFEV Colleagues,
CONCERT REVIEW
Yesterday, quite a few members of our branch attended the concert performed by our fellow members, Bang-Eunn Lee, cellist, and Paul Pitman, pianist, at the First Presbyterian Church of Encino. They played huge repertoire: Dvorak Cello Concerto, Tchaikovsky's Rococo Variations, the Debussy Sonata for Cello and Piano and, as an encore, Vocalise by Rachmaninoff. It was an ambitious program performed extremely well! Bang-Eunn, with great energy, felt and communicated the music, with Paul nimbly and sensitively giving her the support of the orchestral accompaniment (for the Tchaikovsky and Dvorak), and collaborating on equal footing with her for the Debussy and the Rachmaninoff. We are lucky to boast such a concert produced by our own members!! I know that Bang-Eunn and Paul appreciated the support of those of you who were able to be there!
BACH FESTIVAL
Message from Nobuyo Nishizaka (chair):
4/12 (Sun) PM at Pasadena Steinway
Deadline: 3/23 (postmarked)
Fee: $25
Please register your students at scjbf.org and send the check made out to MTAC SFEV to me.
We would like to start about 1PM. We had 25 participants last year. Please bring your students to Bach Festival. We will always have to invite 3 judges, even though we have small crowd. We need to have more participants to maintain this festival at our branch if you like.
CONCERT ANNOUNCEMENT
SFEV member, Hillary Smith, cellist, will be performing with the Sonnets and Sonatas series, literary/musical events sponsored by the UCLA French and Music Departments, on April 1st, 7PM, at the Getty Museum (Sepulveda Pass.) Repertoire includes a movement from Chopin's Sonata for Cello and Piano, Saint-Saens' The Swan, movements from Schubert's Quintet in C Minor and Beethoven's Quartet Op. 131. The event is free, but reservations are required. The link is: http://www.getty.edu/visit/cal/events/ev_368.html
Best wishes to all of you during this busy (CM) month!
Gillian
~~~~~~~~~~~~~~~~~~~~~~~~~~~~~~~~~~~~~~~~~~~~~~~~~
March 7, 2015
Dear MTAC SFEV Colleagues,
Don't miss the concert being presented by our members Bang-Eunn Lee, cello, and Paul Pitman, piano this coming Sunday, March 8, at 4PM, at First Presbyterian Church of Encino! They are playing some of the biggest pieces from the cello repertoire: Dvorak Concerto, Tchaikovsky Rococo Variations, and the Debussy Sonata for Cello and Piano. Please see flyer, attached.
The string teachers in our branch had their first in-branch Certificate of Merit evaluation at Piano Play last Sunday, March 1st. All went well, thanks to Sharon Shaheed who hosted and organized the day at Piano Play, Pam Prasarttongosoth who did the scheduling, and Hillary Smith who handled the on-site running of the day as our string coordinator.
Certificate of Merit for winds takes place this weekend. Thank you to Francine Pancost for her work on this!
Certificate of Merit for Piano takes place March 14 and 15 at Valley College. Sharon Shaheed handles the biggest job of the branch as chair of this event. The job lasts the entire year with all the pre- and post- work it entails. Sharon is a fantastic chairperson: has every aspect of CM extremely well organized and manages it all with a sense of humor and good spirit! We are so lucky!
Please see schedule below for all events and registration deadlines upcoming.
Bach Festival registration deadline is only a couple of weeks away. Traditionally, the playing at this festival has been of an impressively high standard, but, this year, we are really encouraging teachers to enter students who may be of average ability for a couple of reasons: we want to expand the numbers so that it is worth hiring the judges, and we want to see more students participate so they can hear more of Bach's music and gain performance experience handling its challenges.
Don't forget that the clocks should be set forward one hour tonight at midnight!
Best wishes to all of you,
Gillian
March 8 - Certificate of Merit (Winds) Glendale Adventist Academy
Registration Deadline October 31
Chairperson: Francine Pancost (Winds)

March 14 and 15 - Certificate of Merit (Piano) Los Angeles Valley College
Registration Deadline October 31
Chairperson: Sharon Shaheed
Assistant: Pam Prasarttongosoth

March 29 - Honors Festival Los Angeles Valley College
Registration Deadline March 23
Chairperson: Roger Eshleman
Assistants: Laura Halladay & Meg Falk

April 12 – Bach Festival 12:00-4:00PM Pasadena Steinway
Registration Deadline March 23
Chairperson: Nobuyo Nishizaka
Assistant: Mariko Urushidani

May 17 - Scholarship Competition at Los Angeles Valley College
Registration Deadline April 27
Chairperson: Mark Richman
Assistant: Sumitra Nanjundan

10 May – Southern California Junior Bach Regional Festival Steinway Pasadena
Chairperson: Nobuyo Nishizaka will organize two assistants to help with the regional festival from those teachers who have students participating. If participating teachers are unwilling to assist at the regional, if asked, their students may not participate.

May 31 – Spring Festival - General Recital & Scholarship Winners Award Performance Hollywood Piano
Registration Deadline May 18
Chairperson: Regina Verteym
Assistant: Aziza Syed

July 3rd to July 7th – MTAC Convention Fairmont San Jose
~~~~~~~~~~~~~~~~~~~~~~~~~~~~~~~~~~~~~~~~~~~~~~~~~